NEWCOMER WITH AIR CONDITIONING
Tradition meets modernity, simplicity and comfort with a touch of sophistication. We have a total of six new rooms (each about 25m²), which embody the lifestyle of the "Goldene Traube." Natural wood, earthy colors and the finest materials will indulge your senses and enrich your holiday in the wine village of Tramin. Each room has a balcony where you can enjoy the views, as well as extremely comfortable beds where you can sleep soundly. Since every room is equipped with air conditioning, you can enjoy Tramin even on the hottest days.
VITIS ROOM WITH VIEW OF THE VINEYARDS AND AIR CONDITIONING
Built with the finest materials, you can walk barefoot on the fine oak wood floor, whilst breathing in the fresh air of the morning full of sun rays – this is how it feels to wake up in the Vitis room. The soft greens of the vineyards create a fresh and colorful ambiance, together with the sumptuous effect of the robust oak wood, also used for the wine barrels, which is an integral part of the handcrafted furniture.
The natural stone bathroom is equipped with a bath, shower, toilet and double sink.
Built with the finest materials
UVA GRAPE (GLIMMER/MIRROR) ROOM WITH AIR CONDITIONING
Arrive and marvel at the unique landscape on the South Tyrolean Wine Route. The rural-modern style paired with elegant and sophisticated accessories will inspire you. Genuine Swarovski stones sparkle in the headboard of the spacious double bed, as well as on the ceiling. Elegant crystal lamps shimmer magically, dancing with the soft shades of gray and the natural flooring and fine oak furniture.
The natural stone bathroom is equipped with a bath, shower, toilet and double sink.
Rural-modern style paired with elegant and sophisticated accessories
VINUM WINE ROOM WITH AIR CONDITIONING
Like wine, which becomes a pleasurable experience thanks to its variety of different flavors, here in the Vinum Wine room you will also experience the harmony of different elements. Oak wood flooring, wooden furniture from the region and soft leather armchairs in natural colors form a harmonious and welcoming interior. The heart of the room is the round bed. Artistic lamps made of cork and glass bottles reflect the lively and passionate wine culture of our country.
The natural stone bathroom is equipped with a bath, shower, toilet and double sink.
Experience the harmony of different elements
PRIVATE CAR PARK
We have a large private car park and an underground car park for the vehicles of all our house guests.
PRICES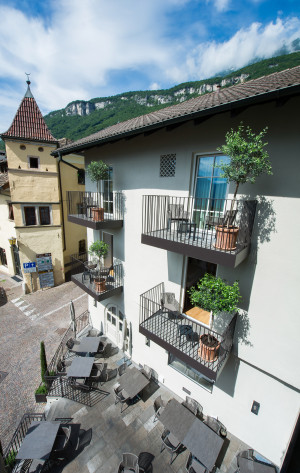 For those who like to stay in a central location, who like to treat their bodies well and who appreciate a warm and welcoming atmosphere, the "Goldene Traube" is the right choice. Take one step out of the door and you are standing in the village's main square, the starting point for many walks and hiking trails and many other recreational activities. For those who prefer a quieter environment, our summer terraces offer a relaxing space and serene views of the country, perhaps accompanied by a glass of fine wine.
Start your day in the best possible way, with our rich buffet breakfast of homemade juices, jams, yogurt and fresh fruit, meats, cheeses and desserts. In the morning we like our guests to eat (and feel) like emperors... and also at lunch and dinner if they so wish, in our restaurant (upon reservation).
Take advantage of our VIP card:
As a hotel guest you will receive 10% discount off warm specialties in our restaurant.
We are here for you all year round.
We have renewed the "Goldene Traube", all rooms offer:
40-inch flat-screen TV,
Shower, toilet, bidet, hairdryer
Oak wood floors
Free WiFi
New windows
New decorative fabrics
A bright atmosphere and spectacular views
A new elevator that will take you to the upper floors
The best price is guaranteed here with us!
open all year round
The current prices you find under "Book now".
Half board possible.
We will be happy to submit you an individual quote!
Family Jan Überbacher & TEAM
*Prices are per night and include a rich buffet breakfast. Staying true to the motto of our restaurant, we use carefully selected regional and seasonal products, with Tramin at the heart of every bite!
**Single room. Double room for single use possible on request!
Local tax: 2,00 €
Cancellation of the reservation: We will try our best to fill the rooms, so as not to charge you any expenses. Free cancellation is possible up to 7 days before the date of arrival. Cancellations are valid only if communicated in writing.
European Travel Insurance: In case something happens before you travel, with our cancellation insurance you are financially covered. If you have to delay or cancel your holiday, cancellation fees may be charged according to EU law. In order to avoid any such charges, we recommend that you take out our cancellation insurance.

CONTACT
Goldene Traube
Fam. Posch - Überbacher
Julius von Payer Straße 2
I-39040 Tramin
vat-nr. 02344160219
Restaurant
T +39 0471 860 164
restaurant@goldene-traube.it
Rooms
T +39 0471 860 482
F +39 0471 861 101
info@goldene-traube.it
Südtirol Transfer: your connection shuttle
The car's on vacation! Do you want to travel to South Tyrol in an environmentally friendly way by train or long-distance bus? The connecting shuttle Südtirol Transfer takes you stress-free from the train or bus station directly to us!